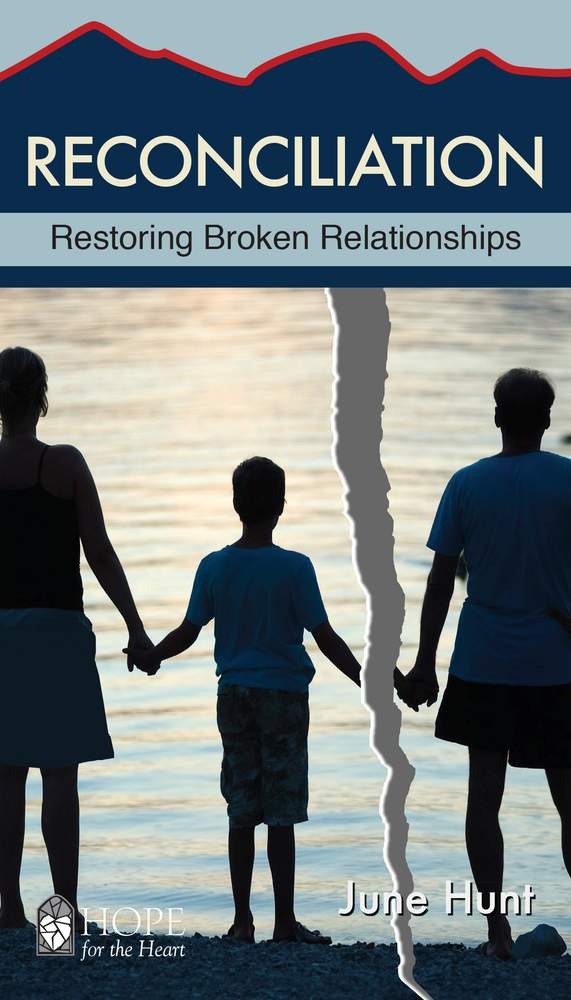 Reconciliation by June Hunt
Sarcasm. Hurt feelings. Misunderstanding. Alienation. When hurt people connect with other hurt people, relationship breakdowns are sure to occur. Why is it so hard to patch things up? Who should make the first move? This 96-page book on reconciliation tackles how to forgive the "unforgivable," how to move past the hurt, and how to restore relationships by restoring trust.

What is Reconciliation?

Forgiving someone is not the same as reconciliation.
Unforgiveness is the root of unresolved conflict.
Reconciliation is a restored relationship based on restored trust.
Even when there are valid reasons to feel hurt and even when the other person is undeserving, the spirit of reconciliation reflects the heart of God.
With God there is no relationship that cannot be restored. Bible stories (David, Joseph and his brothers, Abigail, and Jesus) show God's heart and desire for reconciliation and forgiveness.

Reconciliation gives helpful relationship advice on reconciliation and how to heal broken relationships. Steps to reconciliation include preparing our heart, forgiving others, showing love, reflecting the character of Christ, entering into His peace, and seeking mediation if needed. This helpful, easy-to-understand mini-book will help you prepare your heart to resolve differences and it shows that the road to reconciliation—although difficult—is possible with God.

Look for more titles in the Hope for the Heart series. These mini-books are for people who seek freedom from codependency, anger, conflict, verbal and emotional abuse, depression, or other problems.